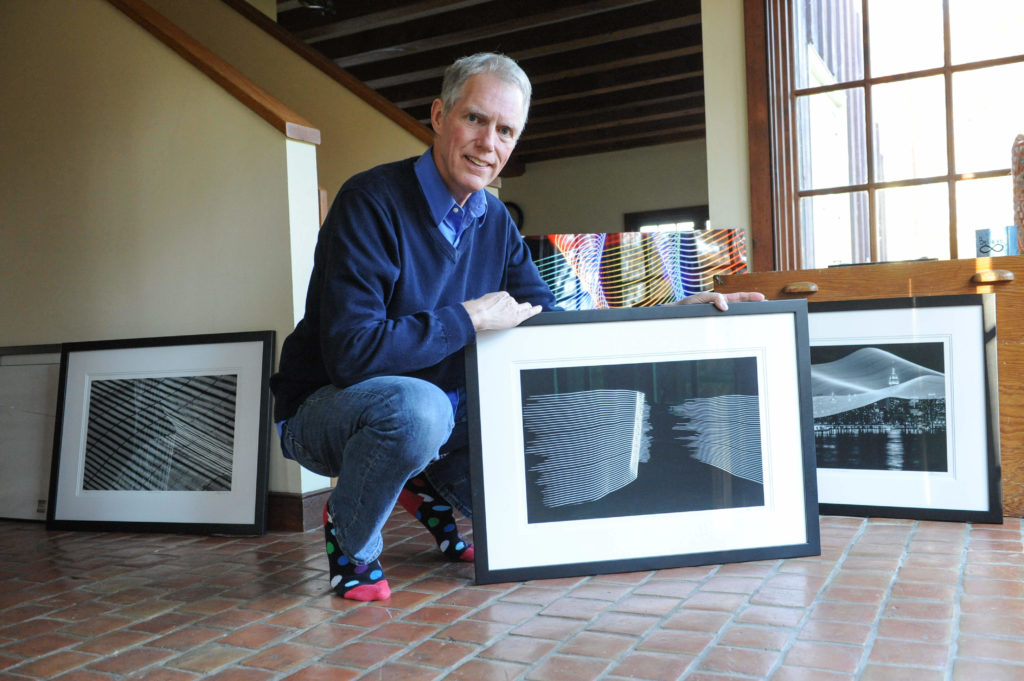 BIO
Christopher Kennedy is a British-born visual artist from Bucks County, PA. He is the latest in a long line of artistic talents to emerge from his family since in the 1700's. His great grandfather, T.C.Farrer, was a leading figure in the Pre-Raphaelite movement in America.
Christopher's fascination for art, photography and music began at an early age leading to a long and successful career as a music editor in the film industry. 70 feature films later, he returned to the visual arts and developed a new photographic method he calls Photo Luminism, a complex technique utilizing specially constructed 'lightscapes.'
His large scale abstractions on aluminum and archival paper can be seen in exhibitions, private collections, public spaces and exclusive hotels around the world.
ARTIST STATEMENT
Light, and the effect it has on everything, has fascinated me all my life. The idea of creating images from light that one cannot actually see came to me a few years ago. I literally slipped while capturing a night shot over Toronto harbor and was intrigued by the fragments of traveling light the camera had captured that I couldn't see with my own eyes. That posed a life-changing question: Could I finesse that accidental process and create viable works of art? I was hooked. Three months later I had the answer and had perfected a technique. I call it Photo Luminism.
Photo Luminism allows me to capture gloriously colorful abstraction or graphic-like subjects entirely in-camera. Purist images then evolve from building lightscapes. I recreate what I see in my mind's eye, often standing for hours in the dark until I get the image right.
Having achieved my goal of a new art form, what drives me now is the desire to keep it fresh, to keep turning corners to see what else is there. My latest development is the adaptation of the technique to work with natural light and Nature's colors. This has opened up a whole new, exciting world for me, keeping my enthusiasm in top gear. Examples of these recent works are the Trees Revered and Passing Impressions series. I have also started my Surrealism series, which mixes real life and Photo Luminism forms in surreal settings.
Another creative turn has been to move my 2-dimensional creations into the 3-dimensional realm by converting them into internally-lit sculptures. My first prototype, "Exhibitionist," was a winner of the New Hope Outdoor Sculpture initiative in 2016. Construction should begin later this year for installation in 2018.