Photo Luminism Sculpture
Earlier this year I entered the New Hope Arts Outdoor Sculpture contest on the encouragement of a friend. I had never considered sculpture before but it wasn't long before the idea gave birth to a crazy idea: "Exhibitionist." I came up with a simple story about 4 friends, one of whom learnt to transform himself into something very special.  It was inspired by two photographs from my Photo Luminism series, Energy. I hastily created a mock-up photo.  A week or so later I was informed I was one of the winners!  That automatically guaranteed me a location in our beautiful Delaware River town.
The sculpture characters will all be made out of fiberglass. During daylight hours they will appear solid, shiny and irresistible. Visitors will love posing and interacting with them, creating fun memories. After dark, the 'characters' will come alive, lit from within, telling their story in light sequences.  Discussions are ongoing with a prominent developer for installation on their property.  Construction is due to begin soon.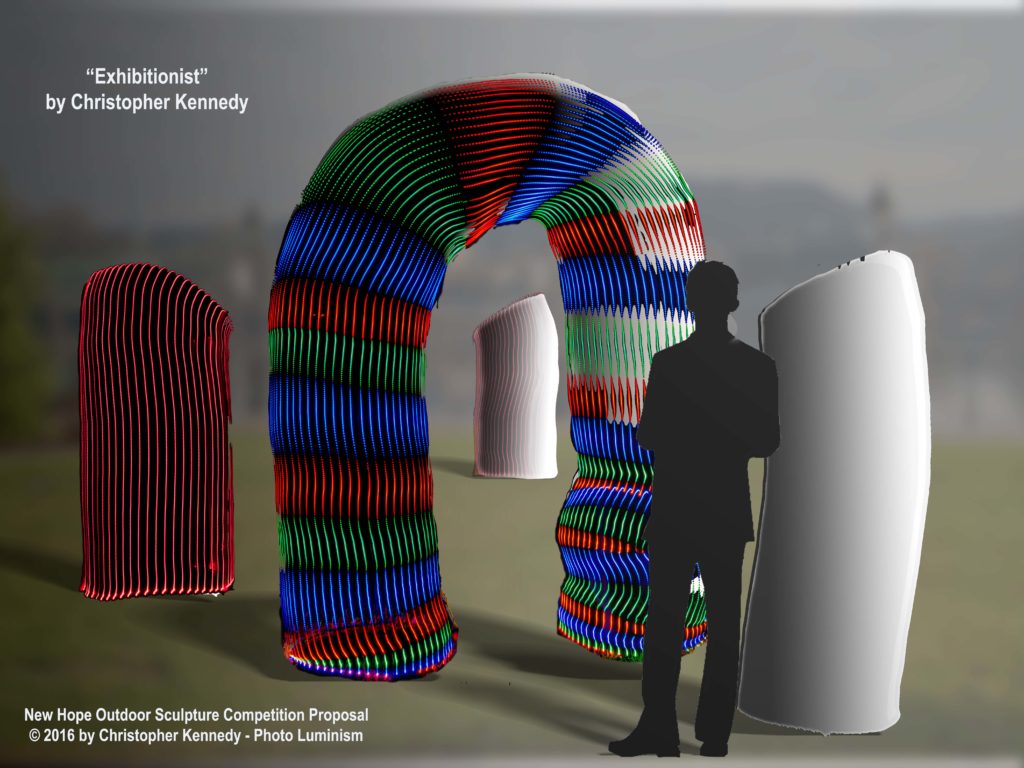 The Second Sculpture
"Taking a Bow," (below) is taken from my Shades series. This will look very much as it does in the image below. It's still in the early planning stages but will be more two dimensional and probably lit in a more traditional manner.  The three characters featured are seen bowing to an admiring audience.
I am very grateful for this wonderful opportunity to take my work in a new direction and expose it to a larger audience. Please stay tuned for more news:  PhotoLuminism News.