Putting this Exhibition Together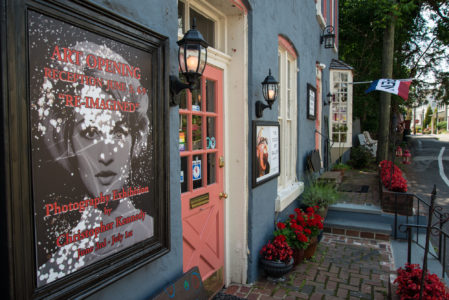 I had no idea how involved it was going to be putting this exhibition together. Although this was not my first solo exhibition, it was the first where I would be encouraged to make a majority of the creative decisions. I later learnt this was apparently because I'm insufferable!
The gallery owner, Terry Meehan, is a good friend. I first met her five years ago at an opening reception and went on to gallery sit for her for a couple of days a week. Last year she very generously offered me the opportunity to show my work at The Studio Gallery. She has exhibited very little photography so this was truly a great opportunity. The coolest part was she had also decided to change things up a bit in the gallery and wanted to do it in time for my show. So we threw some ideas out there, put on our DIY hats and got down to work.
As the re-decorating proceeded, I began work on some new pictures. For this show I had made the momentous decision to step away from my purely Photo Luminism imagery and exhibit artwork featuring representational objects. I had already completed two of the Trees Revered series and had another in the planning stages. But I needed five for the space. The artificial landscapes I produce for the trees using a natural-light version of Photo Luminism require a lot of planning. Finding the right trees, isolating them and then blending them into their new landscapes can also be quite a challenge. All requires a good knowledge of Photoshop, which prior to this series I didn't have!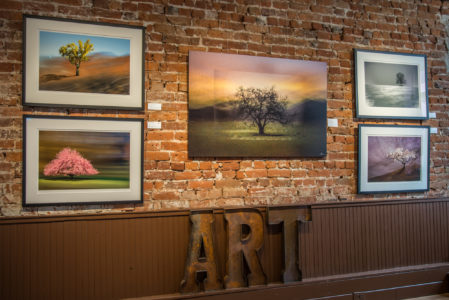 The second series for this exhibition, Inherited, was to be centered around a set of badly damaged professional B&W negatives I discovered in an enormous pile of personal effects left to me by a relative in Hollywood, CA. The subject was her daughter, cousin Pam, a well known model in the 70's. They were more than likely her original portfolio pictures. I first met Pam in England when I was quite young and then again when I stayed with her in NYC after leaving school. She left quite an impression.
Out of the eight negatives, I chose to work on just four for this exhibition. The idea was to embrace their damage, combine them with some Photo Luminism imagery and colorize them to give them a unique high fashion/Pop Art look. Photoshop to the fore once again! Thank goodness for YouTube videos.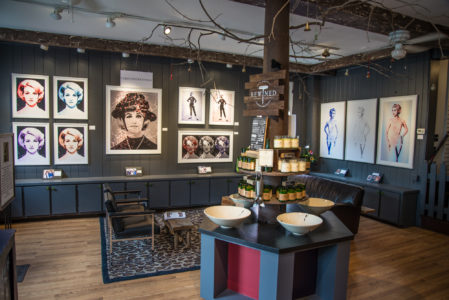 As if all that wasn't enough to deal with, I decided to print the Inherited series on a type of paper not carried by my local printers. I also wanted museum quality reflection free glass. Sadly, it transpired that the glass was going to be prohibitively expensive, as indeed were the white wooden frames I'd chosen. After consulting with local framing expert Sharon Lee Kraynak, an excellent solution was reached. We would create mounted exhibition prints using less expensive white metal frames that I could build myself, with no glass at all. I'd been wanting to do this for years! The printing house, Brilliant Studio in Exton, PA was recommended by my dear friend, reknowned photographer Wendy Paton. Brilliant also mounted the archival prints for stability and easy framing. The finished product looked incredible.
Having overcome the larger obstacles, the myriad of smaller ones suddenly appeared overwhelming. Believe me, I now have a much greater appreciation of a gallery owner's responsibilities. Designing the tags, deciding whether to put prices on them or not, designing and ordering business cards that reflect the new work, the advertising poster, the name card; writing, designing and constructing the storyboards, writing the press release, local press ads, a new bio and choosing what music to play at the opening. Then there was the hanging of all the work – where to hang each, how to group them and of course getting them precisely level and in line!
The day came when all was said and done and I left for the night, completely numb. The following day I burst through the gallery doors and finally experienced the beauty of the exhibition and space for the first time. What a great feeling! All the hard work really paid off.
I am so grateful for the generous support of these exceptional friends and professionals, without whom the results would likely have been very different: Terry Meehan, Wendy Paton, Tamara Cannon, Stephanie Lisle, Sharon Lee Creative Art Services, Carrie and Liz at Brilliant Studio, Anthony at Graphic Imaging, Mirza and Bernie at Image Wizards (metal tree print), Ted at New Hope Photo who did the huge negative scans and of course my very own Wendy Hawkes who kept me centered and calm throughout all the craziness. I cannot thank you all enough. I hope you enjoyed the show as much as I now finally can!