I'm having a very strong 2016, for which I'm incredibly grateful.
The strong 2016 began when I was encouraged by my dear friend Pamm Kerr to do something I'd never thought of doing of before – to enter a sculpture contest. I pondered the idea for a while wondering why on earth she would have chosen me, when I suddenly thought, why not! So I scrambled through my huge library of Photo Luminism images and picked two from the same series combining them into what I thought would make a fantastic 3-dimensional internally illuminated sculpture that the public could interact with and that would create a vibrant conversation piece. That's the result down below.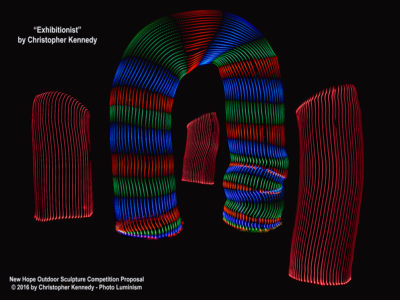 In the design stage I decided it should be big. And rather rashly gave no thought at all to its method of construction. "I'll sort that out later," I figured.  Hmmm.
Well as it happened, later came rather quickly. My luminescent proposal was chosen by popular vote in the New Hope Arts PNC sponsored Outdoor Sculpture Contest. So construction on "Exhibitionist" will begin as soon as I can figure out exactly how!
Late last year I was invited by curator Stephanie Lisle to submit work for her new project, 'Art in the Workplace' to be held in the beautiful offices of Raymond James in Newtown.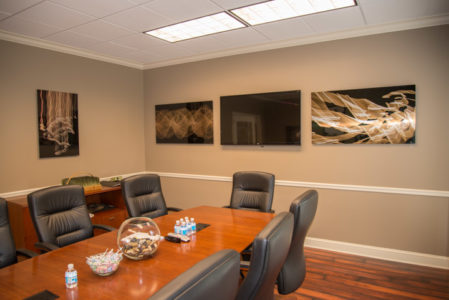 She chose eight of my pictures, four black and white on paper and four  large colorful pieces on aluminum. This exhibition will be in place for 6 months and is currently open to the public on weekdays from 9-5 until October. Nine other very talented photographers are featured. This is a show well worth seeing so just pop in if you're in the area:
Raymond James, 4 Caulfield Place, Suite 101, Newtown, 18940.
Continuing the strong 2016, I have pictures in two juried shows this June:
The Phillips' Mill Photographic Exhibition. "Cross Hatch" is my first acceptance into this much anticipated and highly revered show.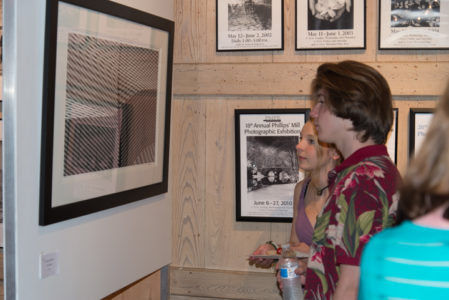 Three jurors had to agree on all the chosen images out of nearly 1000 entries. Please don't forget to vote for your favorite image before leaving. Mine would obviously be preferred, but….
Running until June 26th, Wednesday through Sunday. Always a must see.
New Hope Arts 'Exposure'- The Photo Re-Imagined. I submitted both Photo Luminism and traditional images and this time the jury chose the traditional shot.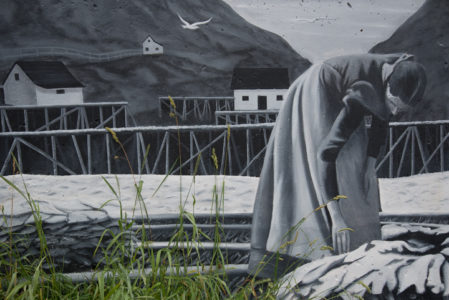 "Battery Mural" is a striking contrast of painting blending with real life. Look closely and see the rain drops that give this picture such depth. This was captured just outside St.John's, Newfoundland. Please come and show your support for this fantastic and very successful show. June 25th – July 17th. Fri, Sat. and Sun, 12 – 5pm.
I'm also thrilled to have just been invited to show a RED themed piece in the inaugural exhibition at Laura Pedrick and Stephen Harris' 26 Bridge Street Studio and Gallery in Lambertville, NJ. Image as yet to be chosen. This runs from First Friday, July 1st for one month. Congratulations to these talented guys on their new venture. I wish you great success!
And so there it is in a nutshell, a very strong start to 2016!
Please follow me on Instagram!